Safety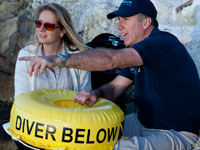 Your safety is a paramount consideration in all of Bondive's operations. It goes without saying that all instructors are PADI certified and have completed First Aid training.
All dive equipment used is regularly checked and serviced. Spare dive equipment and a first aid kit are carried at all times.
We never compromise on safety. If a site is not safe on the day we will choose another location using our extensive knowledge of dive sites around Sydney and NSW.